After settling into Makassar in 2009 to begin my new assignment as Novice Director, I decided to revisit this dream. Fortunately for me, the Legion of Mary provided me the perfect opportunity because they needed a priest to celebrate Mass where they were working in Lapas prison—located in Makassar and only about six miles from the novitiate. From that point on, I tried to visit them as often as I could. Eventually, together with the novices, we set up a regular weekly schedule of visits, to include activities like bible sharing and worship. And it is not just Catholics that we see for our visits. All are welcome. We noticed that some were quite hesitant to participate in the bible sharing at the beginning because, as non-Catholics, they were afraid that we might refuse them. However, as we continually affirm that our aim is merely a bible sharing with no hidden agendas, slowly they accept our fellowship as open and genuine.
We hear many life stories during our prison visits. It is remarkable to me how often, through the sharing of their life experiences, inmates will reveal that they don't fully understand how or why they ended up in prison. For many, it seems they simply lacked a strong compass or guiding purpose in their lives. Still others are classically trapped by the pitfalls of a poverty, addiction, and crime cycle. Mr. Heru, sentenced for nine years, is one of the few Catholics who is always expecting our visit. Almost every Friday he calls me up just to make sure we are coming for our visit on Saturday. Several times he made a point of commenting to me: "Father look at us—we are only a very view Catholics in here." At first I did not pay much attention to these words, thinking that perhaps it's good news that not many Catholics are among them in prison! But after contemplating his perspective I realized that it was actually an expression of longing: for a bigger presence of the Church.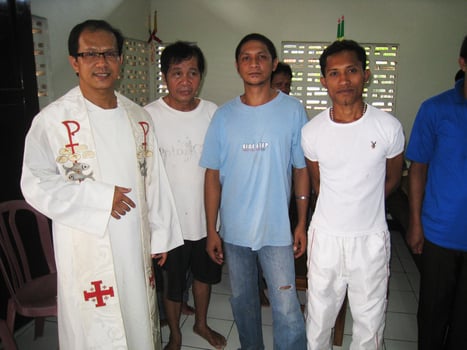 One day I got a short message from Mr. Heru, inviting me to a party. I must admit that I wondered what kind of party we could be having at a prison. But nonetheless I accepted to join them. To my surprise there was a fine, delicious meal prepared, and all who gathered did enjoy that meal. At one point I asked the group: "Where did you find the resources to have this meal and party?" Everyone said it was from Mr. Heru, who then explained to me that he had gotten the money by winning a contest. He went on to report that in the previous year there had been a competition of creativity held at the prison. The objective was to make something from recycled garbage or other unused materials. Mr. Heru had designed and fabricated a water purifier. Upon presenting it to the head of the prison, he and his couple of helpers were awarded the first place prize. Not only was his creation judged the best, the men were asked to produce more units to be implemented for the water system inside the prison. This project is still going on, and they now have even received requests from people outside of the prison who want to purchase these filters.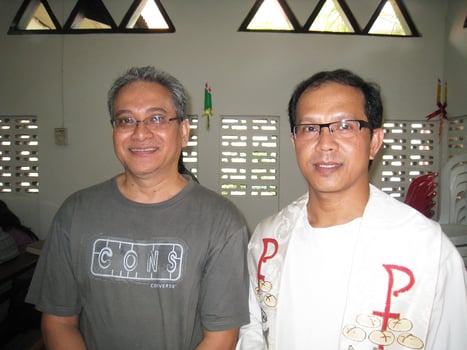 There is value in the lives that are spent behind the prison walls. Jesus gave us the eyes with which to see that value, and the call to not abandon it. When I return to the novitiate after a visit, I offer my deep gratitude to God for allowing me to support the imprisoned. God is always with them so, regardless of earthly confinement, they always possess the chance to live their faith in freedom. Thank my dear friends –may God be with you always.
Joni Payuk, cicm
Makassar, Indonesia
About the Author:
Fr. Joni Payuk, cicm, is a native of Indonesia who joined Missionhurst-CICM in 1993 and was ordained in 2003. After several years working in France, he returned to Indonesia to serve as a formator in Jakarta in 2007, and since 2009 has served as the Director of Novices at the Sang Tunas Novitiate in Makassar.