The school is located in the mountain-top village, so the children typically must walk a few miles up the mountain path to get there. Kids who progress to the high school level typically leave home to attend in the nearest city. Saint Jean Bosco staff is comprised of an administrator (parish priest of Saint Anne), a principal, twenty teachers (sixteen men and four women) and seven other personnel. Among the four women, Laurette Menor is the one who captured our attention with her "above and beyond" way of life.
The 28-year-old Laurette was born in the village and attended Saint Jean Bosco herself. She originally wanted to become a nurse, but could not afford the schooling. Laurette began teaching when she was in the 8th grade, at age 18. She became a teacher to earn money and help her family. Not wanting to depend on her parents, who subsisted only on farming, she endeavored to be self-sufficient.
Laurette quickly fell in love with teaching and has passionately done so for ten years. She has 61 students in her class; her salary is the equivalent of $100 a month. Unfortunately, three years ago her 38-year-old sister died, and Laurette took in the sister's three children who she now cares for as her own. Though she avoided relying on her parents' resources, Laurette then became the sole support for this family of young children.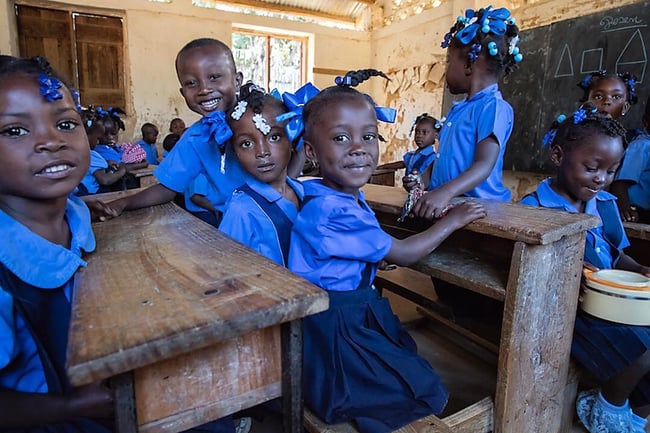 Until graduating from high school two years ago, a typical day for Laurette meant waking up at 5am to prepare breakfast for the family. She taught from 8am-1pm, then went home to make lunch for the family before attending high school from 1:30-5pm. She completed her degree and graduated from high school two years ago, at age 26. Sadly, Laurette's mother died one year ago, and her 68-year-old father is very ill. Laurette now lives in her childhood home and cares for her ailing father, her sister's children, and her 3 younger siblings. Laurette is a brave breadwinner and caretaker for her family. But she would say: "It's just life."
When asked about the importance of education, Laurette is adamant that it is crucial, saying: "You want to be happy; you need to feel good from within. To make this possible, you should have a sound mind and a balanced life. Education will help one to become independent and self-reliant in society. Being educated, no matter what kind of job you have, eliminates insecurity; you are in possession of an organized understanding of the world. Education may not be the key to happiness, but it definitely is the key to many things that come together to make you happy."
Laurette likes to start the beginning of each class day by singing and making music. She knows that combining enjoyment with educational activities has a great impact on young minds. And songs can provide good language models, introduce new words and concepts, tell stories, and provide the prompt for discussions of all manner of topics. This is an important skill for a teacher whose classroom resources only include a blackboard, chalk, and some notebooks.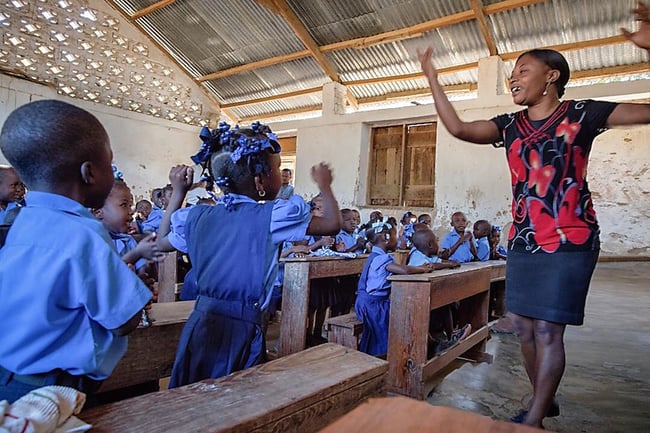 In addition to her commitment and talents as a teacher, Laurette runs a youth ministry for the parish, called Ti moun misyonè (Missionary Kids). They meet at the church on Saturday or Sunday afternoons. Always ready to serve, Laurette also conducts the church choir.
The community of Bois de Laurence is served well by the example of our teacher Laurette. She embodies the scripture: "Do not neglect to do good and to share what you have; God is pleased by sacrifices of that kind." (Hebrews 13:16) Our missionary endeavors here are enriched and supported by the dedication of such community members. We are grateful for their co-missionary spirit: even if it is "just life."
Anaclet Mukendi Mpunga, cicm
Bois de Laurence, Haiti
About the Author:
Fr. Anclet Mukendi Mpunga, cicm, is a native of the Democratic Republic of the Congo who joined Missionhurst-CICM in 2000. Following his studied in Kinshasa and the Philippines, he was sent to Haiti for his internship program in 2009, and was ordained in 2011. Fr. Anaclet is currently serving St. Anne parish, Bois de Laurence, Haiti.