When I arrived in Tala, I was in critical condition and received the Anointing of the Sick. My faith in God has always given me much strength. At the time of my diagnosis, that faith was very severely tested. I had trouble accepting that I had such a dreaded disease; when I noticed the deformities of the older patients, I did not want to be part of their grim world. I told myself that I would rather die than look like them.
Every day a nun named Sister Pilar spent hours tending to my wounds. She assured me that with the present effective medicines, I would recover without deformities. My mother was also constantly at my side for six months. I began to notice that the older patients were happy and kind, notwithstanding their situation. After a few months, my wounds started to heal. Gradually I regained some hope about my future—my fear and feelings of hopelessness slowly disappeared.
After a year of treatment and care, all of my wounds were healed. But my complete recovery was still a long way off. I had to undergo extensive physical therapy in order to walk again. And the healing process wasn't just physical: my stay in the Tala hospital had also resulted in inner healing. Tala became a home for me. I appreciated the friendship and care of the hospital staff, fellow patients, church workers and many other people. Ultimately, I regained my self-respect and self-confidence. Years had passed, and when finally the hospital had done all it could do for me, it was time for my discharge.
My dream of becoming a teacher was revived when I learned that the Holy Rosary College in Tala provides charitable scholarships to sufferers of Hansen's disease. But I had to wonder: after being out of the school for nine years, could I survive in college? How would my classmates treat me? Physical therapy had not been able to fully recondition my right knee, which remained bent at a 90-degree angle. But positive thinking prevailed: no pain, no gain. Going to daily mass strengthened my resolve. Everyone was wonderful to me, even when I felt insecure during my practice teaching in fourth year. I ultimately graduated from college, and it was a dream fulfilled for me and for my parents, whose love had never wavered over the years.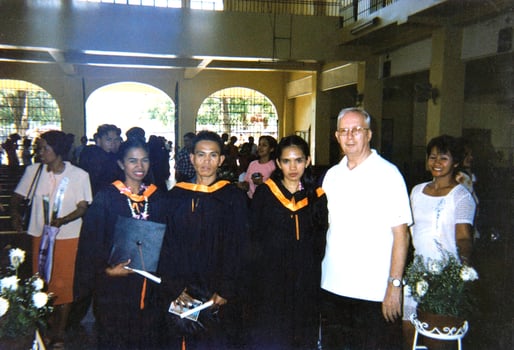 It became clear through my continued physical therapy during college that surgery was the only option for any improvement regarding my knee problem. So, soon after my graduation, I went to the National Orthopedic Hospital for a consultation. The doctors said they had never handled a similar case, and could not assure good results. Yet their concern and competence inspired me and I was convinced I should have the surgery. I was once again fortunate to enjoy the support and generosity of friends, several of whom donated blood for my operation.
The operation was successful, and I went back to Tala for a few more months of physical therapy. Hansen's disease (or leprosy) is merciless. It is undeniably unfortunate to have been a victim of this ruthless disease, and it has taken years of my life and altered my path in numerous ways. But through this disease I have encountered the love and care of countless people from my family, two hospitals, a college and the church. I am very grateful for their help and healing care, and I will never forget any of them.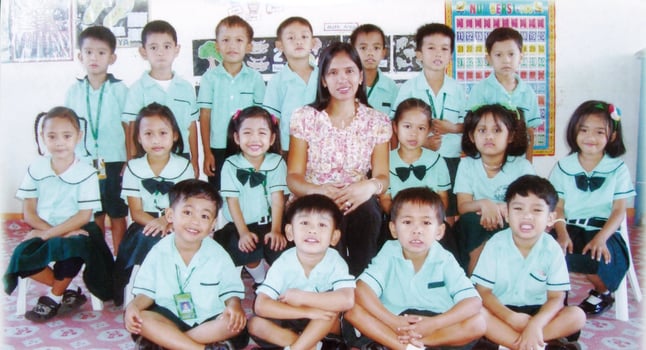 My doctors told me that I was the worst case that had been admitted to Tala in ten years. This is an unenviable distinction to say the least! But I believe that distinction is exactly what led me to the most important blessing in my life: faith in the transformative power of true love. I now realize that love can bloom and it can heal, in the most unexpected places, under the harshest of circumstances. The faith of my companions and caregivers was an instrument for me: deepening my faith and giving hope and life to my dreams.
From the missionary perspective, Susie's story highlights just how important and rewarding it is to accompany the patients and families of the Tala Leprosarium. It is easy to see how Susie and others in similar situations can suffer spiritual decline and loss of hope in the midst of such suffering. That is when our fellowship is most needed. Sharing our faith—"the assurance of things hoped for"—is a vitally important aspect of missionary life. As the prayer attributed to St. Francis of Assisi petitions: "Lord, make me an instrument of your peace".
Susie Contemprato, via Fr. Paul Foulon, cicm
Tala, Philippines
About the Author:
Father Paul Foulon, cicm, is a Belgian native who joined Missionhurst in 1953, was ordained in 1958, and was sent to the Philippines in 1959. Fr. Paul has been engaged in the Philippines ever since then, in pastoral and educational work. He has been the parish priest and hospital chaplain in Tala, a district located in the northern area of metropolitan Manila, since 1993.