ZAMBIA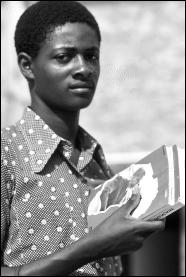 There is a cultural tradition here that obligates relatives to take in their orphaned nieces and nephews and care for them as if they were their own. But poverty and the plague of HIV/AIDS (20% of the population is HIV positive) have shredded the social network that supported this age-old tradition. As a result, many orphans are not welcomed. Instead, these children (some barely out of diapers) are abandoned, mistreated, accused of witchcraft or forced to fend for themselves in the streets.
It is this group of people that Fr. Pierre Ruquoy wants to help. Currently, there are 85 orphans in his village of St. Monica Parish living in three different huts located on the church grounds. Ranging in age from 5 to 17 all of them attend school. They are happy to share the small space with other children, but problems arise when it's time to study. The small huts are just not conducive to school work. Realizing the negative impact the living space was having on their academic performance, Fr. Pierre sought support for the repair and modification of the small old church located nearby. Converting the church into a study hall provided the space and quiet the children needed to review their lessons. Now, thanks to our benefactors, the future of these abandoned, neglected orphans will rest on a solid academic foundation.
---
MONGOLIA
A circle of poverty surrounds the city of Erdenet, where 30% of the population lives in urban poor "ger" communities. Many of the children don't attend school because they lack warm clothing and school supplies, cannot pay lunch fees, and don't have a warm place to study at home. Some drop out to fend for themselves and their families. Others have become so hopeless that they join the increasing number of street children, who are frequent victims of violence, drugs, and prostitution.
My Home Kindergarten, which was started many years ago and is still supported by Missionhurst, is a refuge in this bleak environment. Today, thanks to the generosity of our sponsors, missionary Fr. Pierrot Kasemuana continues to make My Home Kindergarten a welcoming space that provides a safe, warm learning environment for children. The Kindergarten also provides remedial reading and other support services designed to help children succeed, such as a warm lunch each day, as well as a library open to those who want to study with the help of their teachers.